Maritime Analytics


Smart Vessel Optimizer
The shipping industry is undertaking major challenges.
Think of growing pressure on environment, increasing competition from all over the world and ever-changing regulations. This requires smart decision-making from vessel builders and owners.
The global production industry has similar challenges and is harvesting data coming from their factories to support decision-making.
These technologies have proven to be very successful in maintaining an improving their competitive position as well increase the productivity and availability of their most valuable assets.
Smart Vessel Optimizer is utilizing the same industrial hardware and software solutions. But then redesigned for maritime operations to support vessel owners and builders. Unlocking a continuous string of opportunities to improve operation. Over time the data becomes richer and this way reveals even more improvement area's
Smart Vessel Optimizer supports a number of standard dashboards that can be adapted per customer.
The type of vessel and operation determine the most critical KPI's that need monitoring if shipyards and vessel owners want to start optimizing.
These KPI's will be determined at the start of the project together with the end user. It is from this starting point that we determine the vital datapoints that we need to extract and convert from the vessel.
We are developing standardized dashboards for specific vessel types as well.
This way we support customers that may need some help determine the possibilities. Along the way we can tweak dashboards if desired or add extra specific visuals.
All information shown in the dashboards can be presented in recurring reports to be shared with specific stakeholders in the value chain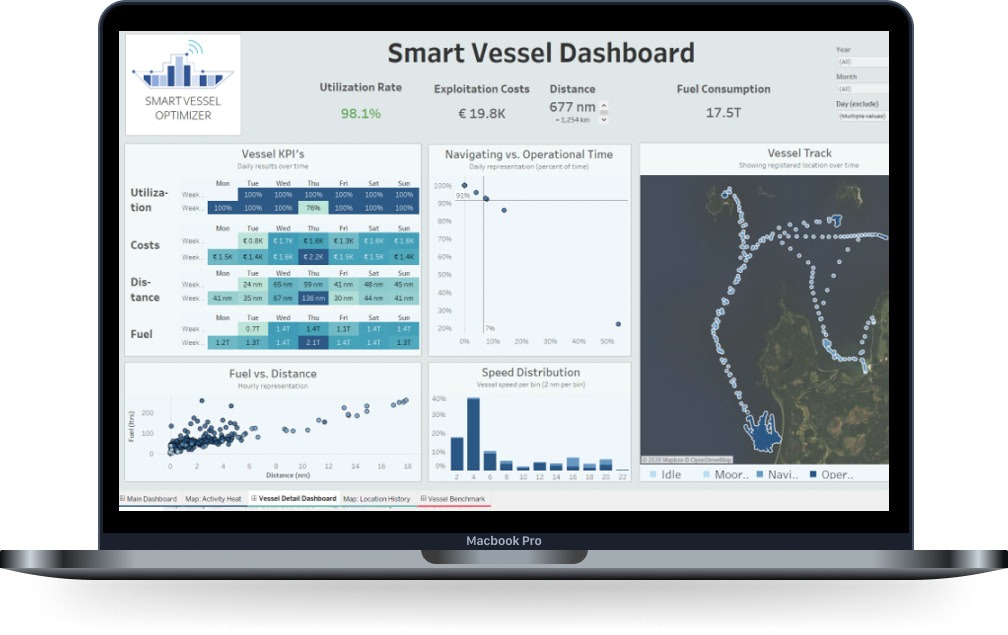 The comprehensive dashboards of Smart Vessel Optimizer help on making decisions.
Know where each vessel is at any time and what their engine load and fuel rates are. Decide when which route is the most cost efficient and instruct the captain on acting on this data.
Increase operating times by using the vessels more extensively and drastically cut down maintenance costs.
To be able to act upon data, these need to be collected and interpreted. Let Smart Vessel Optimizer help you on deciding your most lucrative opportunities
To support these 24-7 processes, we complete the solution with high quality 4G+ LTE connectivity. We do this in a flexible manner and based on industry grade services. Thanks to our multi-network connectivity, we ensure extra high availability anywhere in the world.
don't take our word for it


Do you want to

stay ahead

of the competition?
We deliver this complete solution to partners and resellers who want to distinguish themselves and deliver added value in the market in which they operate. Our organization and our services connect seamlessly with your business model. We offer a clear model in which we equip you with high-quality and innovative services such as eSIM (eUICC), the required IT tools, a wholesale tariff and of course branding.