In short Smart Farming is about the application of modern information and communication technologies (ICT) into agriculture. Our partner Yookr focuses on the application of crop monitoring via smart wireless sensors which are equipped with a Weconnect IoT SIM.
These sensors are used to link data to the production which can lead to greater success in the cultivation of crops. The smart farming solution of Yookr was developed in coöperation with many farmers, the real-time and 24-hour sensor view already makes a difference for many farmers. 
Het koppelen van gegevens aan productie kan leiden tot meer succes in de teelt. Daarom zetten wij ons in voor een datagestuurde benadering van telers.
Want maximale efficiëntie vereist meer dan groene vingers. De gepersonaliseerde boeren dashboards geven een duidelijk inzicht in uw teelt op elk moment van de dag.
Yookr works independently of any brand. The Smart Farming sensors map the data that are relevant to the production, such as humidity, (crop) temperature, soil moisture, dew point, and medium photosynthetic PAR light. In addition, thanks to the API, all information that comes from other data sources, such as climate systems and databases, can be integrated into the Yookr smart dashboard. The 4G mobile connectivity of weconnect is a complementary element within the solution for the fast and stable exchange of real-time data.


Real-time agricultural management
With the Yookr wireless smart farming sensors you measure climate data and growth data: from humidity, temperature and CO2 to growth light (PAR), soil moisture, dew point, and for example weight development of the fruits. A personalized dashboard displays this data. And self-set smart alerts inform you of changes in the greenhouse or in the field that you find important.
This way you can make adjustments on time. Not afterward, but in real-time. At any time of the day.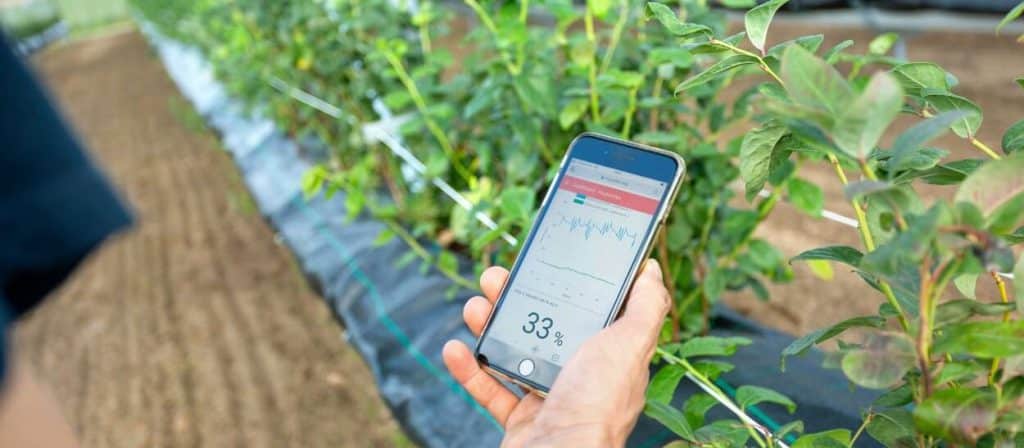 Yookr is committed to a data-driven working method for growers. By visualizing and digitizing knowledge, we empower growers and contribute to a sustainable future.
The flexibility of the Smart Farming dashboard
The data measured by sensors is displayed using simple line graphs. This offers the possibility to create clear dashboards with the data you want to see. For example, create a dashboard with individual graphs for each sensor you have. Or create a combined graph, in which the data from multiple sensors can be displayed. Get new insights by displaying humidity and temperature in one graph, or compare the temperatures in different fields, departments, or rows with each other.
The handy filter option makes it possible to map a specific time period. For example, show what happened in the greenhouse or field in the past hour, day or week.
Change the title, axis labels, and legends to make the graph as clear as possible for your purposes. After making an export, the graph is saved as an image on your computer.
Find out more about Yookr and their solutions on yookr.org
Connectiviteit voor jouw project
Weconnect is solving problems with Data SIMs globally, we are the connectivity experts. Are you looking for the right partner for your Smart Farming, Crop Monitoring, or Agricultural IoT solution then you've found your partner.
Neem contact op of bekijk onze IoT solutions.